Optimize your technology infrastructure, meet the heavy calculation demands of Fundamental Review of the Trading Book (FRTB) and control the cost of implementation with an industry leading, advanced market risk management platform that offers automation and flexibility.
Anticipate the impact on your business, make the most of your capital resources and be ready to meet regulatory deadlines and standards with Murex's solution.
Learn more
Murex' FRTB solution
SA and IMA
Standard approach (SA) and internal model approach (IMA) models are fully supported, with a multi-jurisdiction framework designed to simplify IMA approval and preconfigured regulatory set-up for SA compliance, reducing complexity.
High performance
High performance through a ''never-twice'' intelligent calculation engine and in-memory aggregation improves performance standards and reduces hardware footprint.
Comprehensive coverage
Comprehensive coverage of the full FRTB calculation chain, down to final capital charge, across all asset classes, is featured.
Powerful risk architecture
Powerful risk architecture integrates with your existing technology infrastructure.
Operational efficiency
Operational efficiency through optimized time-to-fix, recomputing only what is impacted by the change.
Significant impact
FRTB implementation has significant impact on the way banks understand and manage capital requirements, driving changes in operations, standards, references, data integration and risk management. FRTB directly impacts a bank's profitability and efficiency and, as a result, how trading desks are managed.
MX.3 for FRTB
Part of Murex's risk and regulatory suite, MX.3 for FRTB is the result of significant investment in developing best-in-class technology and features for financial institutions, underpinned by 30 years of experience managing the complexity of capital markets. It aligns risk and trading analytics and instruments to meet the demands of FRTB. MX.3 for FRTB is available as a stand-alone solution or as part of MX.3 Enterprise Market Risk Platform, whose flexibility can be leveraged for other regulatory requirements such as CVA capital charge, SA-CCR, or SIMM margining.
For more details, download the brochure.
High performance technology.
Align risk and trading analytics.
Stand-alone solution or integrated with the flexibility of MX.3 ERM and Trading solutions.
Award-winning market risk solution.
MX.3 for FRTB is a packaged solution that supports multi-jurisdiction and calculates capital charges for both the SA and IMA. It gives a consistent view of risk across the trading book, facilitating regulatory compliance and enabling improved decision-making across trading desks. The solution can be deployed for SA-only compliance, or a combination of SA and IMA compliance depending on the business profile.
For SA
Murex offers a comprehensive SA package that covers the calculation complexity of required curvature and sensitivities across all trading positions, from vanilla to highly exotic instruments. Its aggregation layer covers all FRTB bucketing and netting rules, specifically sensitivities-based method (SBM), default risk charge (DRC) and residual risk add-on (RRAO). A powerful FRTB SA dashboard delivers a real-time, transparent audit trail to analyze capital calculations (e.g., final capital charge, marginal metrics and intermediate SB and KB) and report to national and regional regulators quickly and easily. Murex is a licensed vendor for ISDA Standardized Approach benchmarking.
MX.3 for FRTB is designed as a prepackaged solution for rapid deployment. It provides the best level of user experience and evolves with revisions in line with regulatory updates.
For IMA
Murex's IMA solution ensures the end-to-end calculation of capital requirements. This high-performance solution is designed to simplify regulatory approval, leveraging depth and consistency from Murex's expertise in trading and risk analytics. Existing Murex clients also benefit from integrated front office and risk analytics inherent in the single platform.
With full representation of FRTB risk factors, core features include the calculation of expected shortfall with required liquidity horizon adjustments, a reduced set of risk factors for ES scaling, and the instruments to conduct stress-testing of non-modellable risk factors. The solution leverages a comprehensive P&L attribution tool to enable users to perform both backtesting and P&L Attribution tests between the Hypothetical P&L (HPL) and the Risk Theoretical P&L (RTPL). Additionally, clients can also leverage our historical scenario generation and proxy management for a wide range of risk factors and complexity.
MX.3 for FRTB also extends to cover IMA-DRC from Monte Carlo scenario generation, through the jump to default evaluation to the 99.9 percent VAR calculation.
Designed to optimize the user experience for traders, risk managers, finance and IT professionals, Murex's FRTB solution contains user-friendly interfaces and content, and high-level operability.

Clear, intuitive and easy-to-use

FRTB graphs

"What-if" scenarios for capital optimization

Surgical capital calculation reruns for parts of the trading book

Dynamic and reactive dashboards that feature full drill-down by desk, risk factor, liquidity horizon and more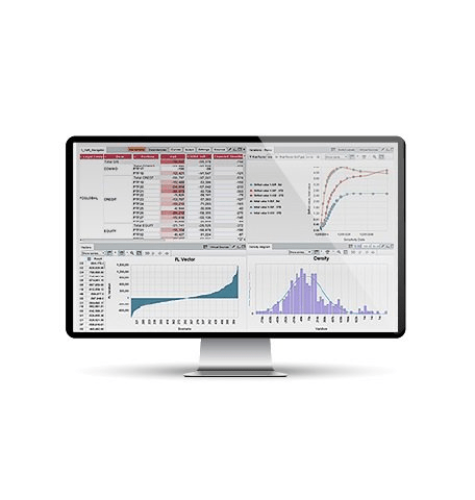 Achieving the high-level of granularity and complexity in analytics required by FRTB doesn't have to come at the cost of performance or increased hardware. Murex's technology stack uses CPU / GPU grids combined with an intelligent ''never twice'' calculation engine and in-memory aggregation to deliver one of the most high-performing solutions for SA and IMA compliance on the market. This drives real-time results, reduces a client's overall hardware footprint and controls total cost of ownership.
275,000 trades in 32 minutes
For a cross-asset portfolio containing 275,000 trades, the FRTB graph engine calculated the corresponding
• 72 expected shortfalls
• on 80 cores
• in only 32 minutes
FX 55 percent / IRD 20 percent / Bonds 10 percent / Equity 15 percent
Options: 10 percent (27,000) spread over FX and Equity
MX.3 for FRTB easily adapts to fit with the technology infrastructure of a financial institution, with an advanced framework for importing and aggregating positions, sensitivities (e.g., Taylor expansion or standard methods) or P&L vectors across the enterprise.
The solution architecture is designed to ease the retrieval of positions from multiple source systems based on a client's own formats. It enables fast incremental risk calculations with powerful position synchronization and automation capabilities. Imports are more easily controlled and managed by an exception-based reporting dashboard, which provides users with global status across all source systems.
Murex's advanced solution will help you meet the requirements of FRTB, optimize your technology and capital resources and control the cost of implementation. Be ready to meet the regulatory deadline and take the best route to FRTB compliance with Murex.
Over 30 years of capital markets experience
More than years of experience across front office and risk means Murex has the expertise to deliver your organization's FRTB project. The team understands the significant organizational challenges posed:
• Optimizing from monthly to daily reporting
• Understanding and managing large volumes of data
• Potentially transferring regulatory reporting from finance to risk
• Implementing optimized architecture to ensure system performance and operability
Your partner for compliance
Murex offers a partnership approach, enabling you to benefit from tested methods and experience on FRTB projects:
• Murex is already helping clients start begin to implement their FRTB technology solution;
• The team has extensive experience working on FRTB QIS and POCs with clients
• Successful history of advanced and fully-documented POCs
• Proven ability and the resources to deliver FRTB projects globally
About Murex
Murex provides enterprise-wide, cross-asset financial technology solutions. Its MX.3 platform is engineered to meet evolving challenges. It supports trading, treasury, risk and post-trade operations to help clients meet regulatory requirements and to manage risk and IT costs. Murex has more than 57,000 daily users in over 60 countries. Murex supports diverse financial services clients, from banking and asset management to commodities and energy. Murex has over 2,600 team members across 19 locations who provide cutting-edge technology, superior customer service and unique product innovation. Play video
Murex delivers smart technology to capital markets. Learn more in an introductory video.